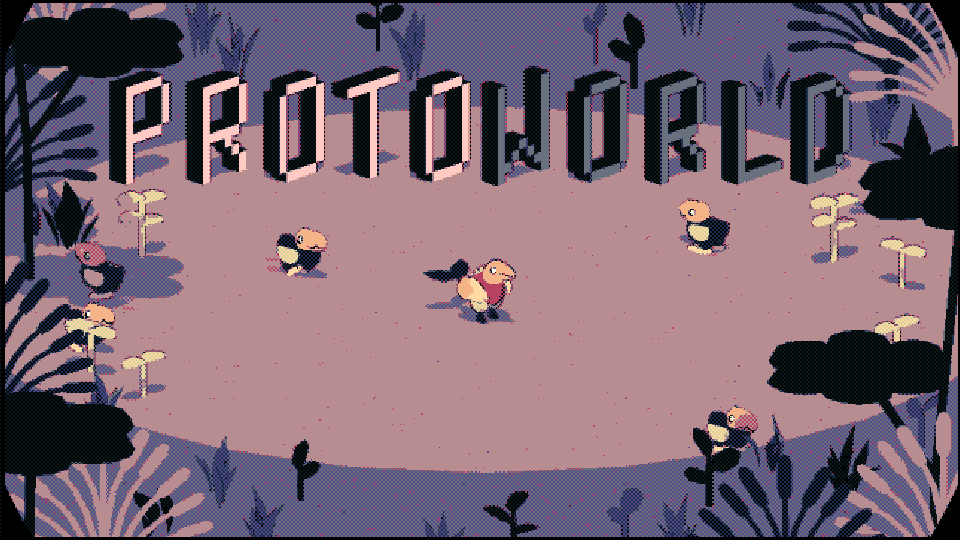 DOWNLOAD FOR FREE, FOR PC AND MAC, IN ENGLISH AND JAPANESE
デモ版は無料でダウンロードできます! 日本語でも遊べます
THIS IS THE FIRST PUBLIC DEMO OF PROTOWORLD.
IT AIMS TO SHOWCASE THE PLAYER MOVEMENT AND ABILITIES.
THIS GAME IS STILL IN DEVELOPMENT AND IS FAR FROM COMPLETE.
PLEASE SEND ME YOUR FEEDBACK SO I CAN IMPROVE IT!
---
WHAT WILL PROTOWORLD BE?
PROTOWORLD WILL BE A GAME WHERE YOU EXPLORE AND EAT AND GROW AND CHANGE.
PROTOWORLD WILL BE A WORLD WHERE A STAR IS FALLING.
PROTOWORLD WILL BE A STORY ABOUT CREATURES THAT DON'T UNDERSTAND.
ABOVE: FOOTAGE FROM THE PRE-ALPHA FEEDBACK BUILD
---
WHAT IS NEXT FOR PROTOWORLD?
USING YOUR FEEDBACK FROM THE DEMO, I'LL IMPROVE THE PLAYER SOME MORE.
I'LL AIM TO RELEASE ANOTHER DEMO THAT FEATURES THE IMPROVEMENTS.
NEXT, I'LL FOCUS ON THE DIFFERENT BEHAVIOURS OF THE CREATURES IN THE GAME.
THEN I FEEL LIKE I WILL BE READY TO BEGIN MAKING THE FULL GAME.

PROTOWORLD WILL TAKE SOME TIME TO MAKE... I CANNOT PREDICT A RELEASE DATE YET...
I HOPE YOU WILL KEEP THE DREAM OF PROTOWORLD ALIVE IN YOUR HEARTS UNTIL THEN.

IF YOU WOULD LIKE TO SUPPORT PROTOWORLD'S DEVELOPMENT, I HAVE A PATREON HERE.
I SHARE MONTHLY WRITE-UPS OF MY WORK AND PROCESS EXCLUSIVELY TO PATREON.
I ALSO HAVE A DEV BLOG HERE AND A TWITTER HERE. I HAVE A PORTFOLIO WEBSITE HERE.
---